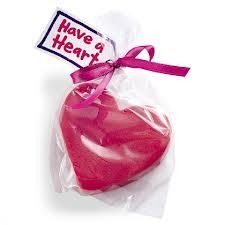 Fun
How can you go wrong with a cool clay heart that can be passed out for a classroom Valentine's treat?  I am not really fond of handing out candy to our kids' classes, so this is a great option instead.  For the girls, we actually add a little glitter to add that sparkle. This was origianlly provided my familyfun.com many years ago, but it always pleases.
Play Clay Heart
Materials:
3 cups of white flour
1 1/2 cups of salt
1 1/2 Tbs of cream of tartar
3 1/4 cups of water
6 Tbs of veg oil
Red food coloring
Rolling pin
Heart shaped cookie cutters
Small cellophane bags  (walmart wedding crafts)
Scissors
White paper
Markers
Hole punch
Ribbon
Directions:
Mix flour, salt and tartar in a medium pan.
Separate bowl, mix liquids then adding drops of food color until satisfied with color.
Pour liquid over dry ingredients in pan and stir. Cook over med-low heat stirring constantly, until mixture holds together and gets too hard to stir.  (It will stiffen even more as it cools 5-10 mins)
Knead clay briefly, then roll out to 3/4 inch thick and cut with cookie cutter.
Place each heart in a cello bag.  Decorate white paper tags, punch holes in tags, and tie each bag closed with ribbon and a tag.