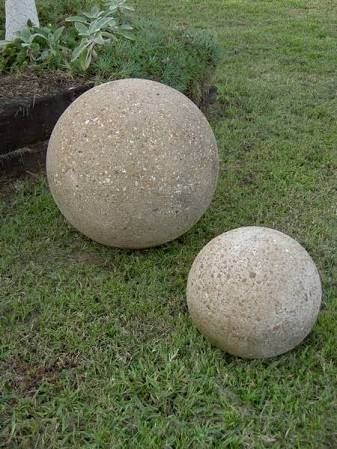 Who doesn't like garden art? Who likes to put it away? Not me.  We live in a harsh climate where sometimes we don't have anything too interesting to look at for quite a while.  One way for us to fix this, is by putting out garden art.  But, who wants to take it in and out every year. Or, hope the sun, rain, or wind does not damage it too much. I saw these really cool globes at the garden center that were so colorful but made of metal or plastic.  They would add a ton of color and brightness to an otherwise sad yard in the harsh months.  The prices for some these were $35.00-$125.00 depending on how they were made.  No way am I paying that price when I can have 60 mph winds gusting through my valley.  Could you imagine all my pretty globes rolling down the road? Well, there goes that idea.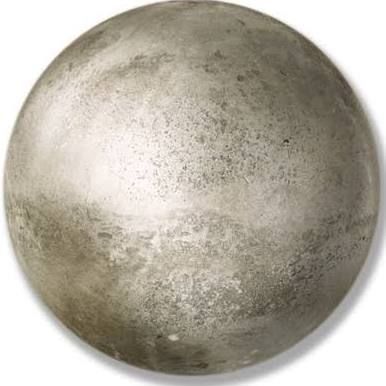 Then when I was de-cluttering my magazine collection,  I noticed there was directions on how to make concrete globes for the yard.  Hmmm, I am pretty sure wind would not blow those away!  I watched the video from BHG.com/GardenBall.  The video directions seemed pretty easy so I wanted to share them with you.  If you would like to watch the video, click the link above.
Concrete Garden Globes
Inexpensive and fun idea for your yard or patio. Can be painted or stained for cool color options.
Ingredients
Small bucket
Newspaper to line bucket
Glass globe for a light fixture
Cooking spray
Large flexible plastic bucket
Rubber gloves
5 pound bag of concrete or mortar mix
Water
Stir stick
Heavy- duty plastic bag for the globe to fit inside
Safety glasses
Hammer
Soft cloth
Instructions
Spray the inside of the globe with cooking spray
Put on gloves and glasses
Place concrete or mortar in large flex bucket
Add water until it is the consistency of a thick milkshake
Pour into the globe(s)
Place in newspaper lined bucket to set up for 48 hours for concrete and 1 week for mortar
Place dried globe in heavy duty plastic bag
Glasses on, hit gently with hammer until the glass is removed from the globe
Remove globe and wipe any remaining glass
Seal with paint, stain, or concrete sealer. Or leave unsealed.
Notes
Start with a half bag of concrete as the glass globe sizes will vary. Using the concrete will produce a matte finish as mortar will result in a shiny finish. Seal if left out all year.
Adapted from BHG.com/gardenball