Here are my first Alpine Strawberries.  We started from bareroot plants and have been so patient waiting for them to arrive.  I planted them about 3 years ago.  Two years ago, they only gave us a small amount of strawberries, 5 maybe, but something got them before we did.  Awww.  Last year, the rabbits got to them before us and we only ended up with 3.  This year, we have a ton so far.  These 3 were the only ones red, but I ate one on the way in. I had to make sure they were sweet enough for my girls.
I must say I think this is one of the best investments in a garden.  First, let's not forget these little guys are super sweet, always!  These are considered to be the sweetest of them all.  But they tend to be very small.  Secondly, the kids love going in the garden and peeking through the plants to find the bright red, juicy little treats.  Kids will help water and care for them knowing what is to come.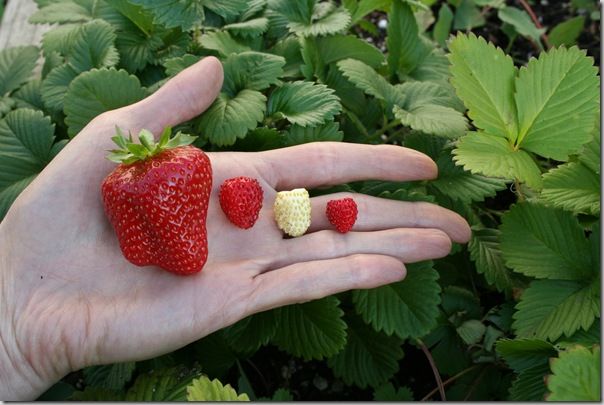 The large one here is a super market hybrid.  The next 3 are alpine Strawberries.  I currently grow Alexandria and Mignonette.  I also have some Junebearing and everbearing mixed in so we will have a constant supply of strawberries.  It seems there is never enough of the Alpine berries so having a mixture will help if jam is on your list. The near-wild Alpine Strawberries, Fragaria alpina, are the best, any variety really.  The wood or wild strawberry is called Fragaria vesca. Both are considered a delicacy in French restaurants.  These strawberries are so juicy and sweet and tender, once you try these little gems, you will be addicted to them. The yellow ones, like Pineapple Crush, are supposed to carry a little pineapple flavor mixed in with the strawberry.  Birds also tend to not bother with these as they think they are not ripe! The store bought strawberries will become tasteless and hard (yuck) so definitely plant plenty of varieties in your own garden.
These are mostly trouble-free perennials which are hardy from Zones 3 to 10, where they will fruit with as little as four hours of sun a day. Alpine strawberries are not fussy and will survive in most garden soils, but the best-tasting fruits and abundance comes from soils that drain well with organic matter. Adding compost or straw every year around the plants will help keep them weed free and the shallow roots cool.  They definitely do not like sharing space with weeds as it is hard for them to compete.  The berries that don't quite make it, can be left in the garden so they can re-seed for next year.  
I know Amazon has a few varieties so you could start your search there. Plants would probably be less fussy but that is your preference. Several (6-7) plants would produce about a cup of berries several times per a week through the summer. Or, I have provided some other places that I have purchased seeds from.
Renee's Garden
6116 Highway 9
Felton, CA 95018
888-880-7228
www.reneesgarden.com
seeds Johnny's Selected Seeds
955 Benton Avenue
Winslow, Maine 04901
877-564-6697
www.johnnyseeds.com
seeds