I know, a beautiful solid wood table painted? I have heard all about it from many "male" friends about what was I thinking?  Well, I am a busy mom and I don't have time for stripping or sanding the table.  I found this very cool and ornate oak table at a second hand store for $60.00.  It was such an awesome find.  I wanted a quality white (or soft white) table for the kitchen and just could not find one in a store.  Well, find one in a store under $2000.00.  I have children, nieces and nephews, it is just not practical for a family home. Enter – solid oak table for $60.00.
I kept hearing about a paint that could go over just about anything without sanding or stripping.  I felt this was the project to test that!  So I located a paint called Annie Sloan Chalk Paint.  I read the reviews and felt I would start there.  I could always make my own, once I knew what it was like to work with.  Then when I seen all the colors, I started second guessing my color choice of just soft white.  To top that off, the stores which sell Annie Sloan paint, typically offer classes on using the chalk paint in different ways.  What a can of fun worms that turned out to be!  Chalk paint is reputed as having the ability to cover wood, metal, and fabric.  Crazy baby!  Just like me.
Anyway, I stayed focused on the white paint and picked up a quart ($40.00).  I know crazy price right, but if it does what it says it can, isn't saving time worth it? So, I dragged the table in the kitchen, wiped it down with a vinegar and water mix, and let it dry.  I wanted to get this done before having to pick up the kids at school.
I painted the whole table in about 45 minutes. I supposed being a little more cautious than need be.  I waited about 2 hours, lightly sanded and re-painted it.  I did not want to see my brush strokes so I sanded them out.  It was so fast.  I sanded the whole top in 10 minutes, if that.  Easy peasy. I sanded in-between each coat, applying 3 coats, just because it was a kitchen table being used heavily by children.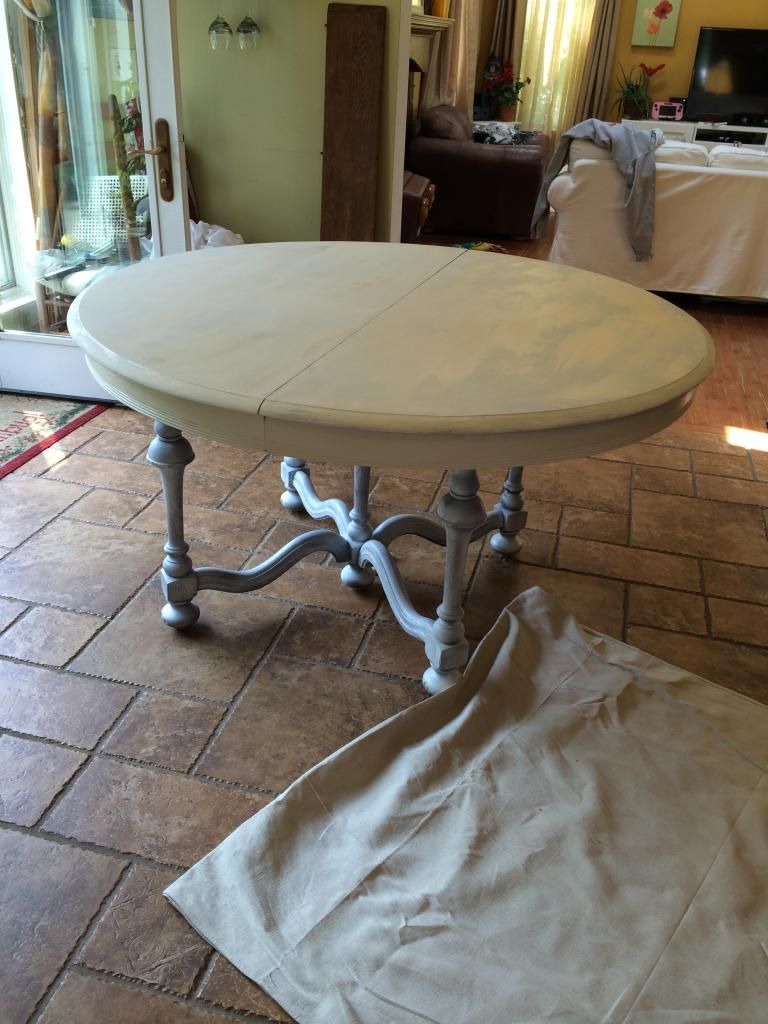 I also found a lot of reviews on how to seal the chalk paint.  There were things like paste which was a lot of buffing or sealers that would change the color, or leave cracks like a crackle paint.  I did not want any of those things.  The store where I bought the chalk paint from, suggested a sealer called Artisan Enhancements Top Coat.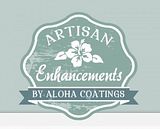 I figured I would try this top coat and if I did not like it, I could just paint right over it with another coat of chalk paint.  This is the awesomeness of chalk paint!  I applied 3 coats to the table and it did not change color or crackle.  It did add a nice satin finish to the table which I preferred over the flat finish.  Within a week, my kids had water marks on the table.  I lightly sanded it and put another top coat.  Artisan Enhancements also offers a sealer, so I was thinking if the problem keeps occurring, I would try putting the sealer over the top coat.  The table is beautiful, and honestly the painting was so fast and fun that I do not mind having to tweak it until it works for our family.  This is the table with 3 coats of a the satin top coat and a little bird egg blue rubbed into the side and legs of the table.  I have gotten so many compliments it has inspired me to paint the pieces in my home that I was going to get rid of!!