Hello!
My built-in, window seat bookcase is finally finished.  Well, almost finished.  As usual I cannot decide on the new space's color.  I was thinking of blue, green, white, maybe gray?  Oh, I cannot decide.
I have been asking for a built-in-window-seat-bookcase in our dining room for a loooong time!  I had been showing my husband all the cool pictures on pinterest and they inspired him to try.  We needed to have a dining room, craft room, and home office. The kids are still a little young to be doing some crafts unsupervised so they need to be in there too.  As for the dining aspect, we have a large extended family/friends group and want everyone to feel comfortable the 6 or so times a year we have functions. 😉
Stuff
The "stuff" has not been organized yet as I am combining my kid's crafts and books with dining and sewing.  Can you believe I am going to try combining all that into one room and still eat in there?  I am not sure how I will swing it, but it will be done.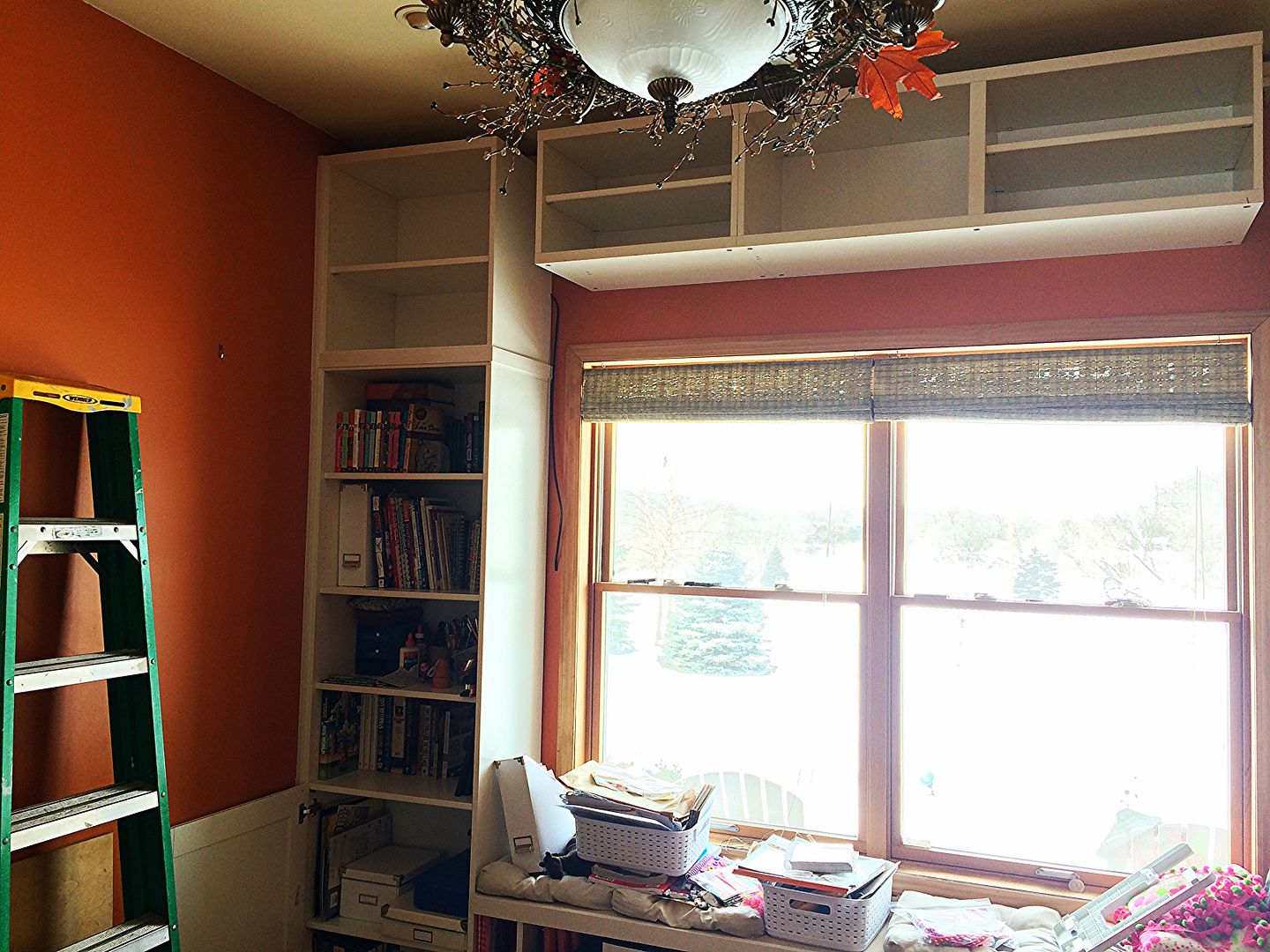 Ikea
We used Ikea Besta cabinets and maple plywood.  Anything really can be used, if you will be painting it, but it was what we had already. Ikea also has their clearance area where you can buy sratch and dent type cabinets, doors and drawers.  Check there for additional savings.  You see, this project included things we already had, minus the Ikea cabinets, which we got on sale!   We had trim laying around from our windows and doors, so we used some of that along with the paint that we already had.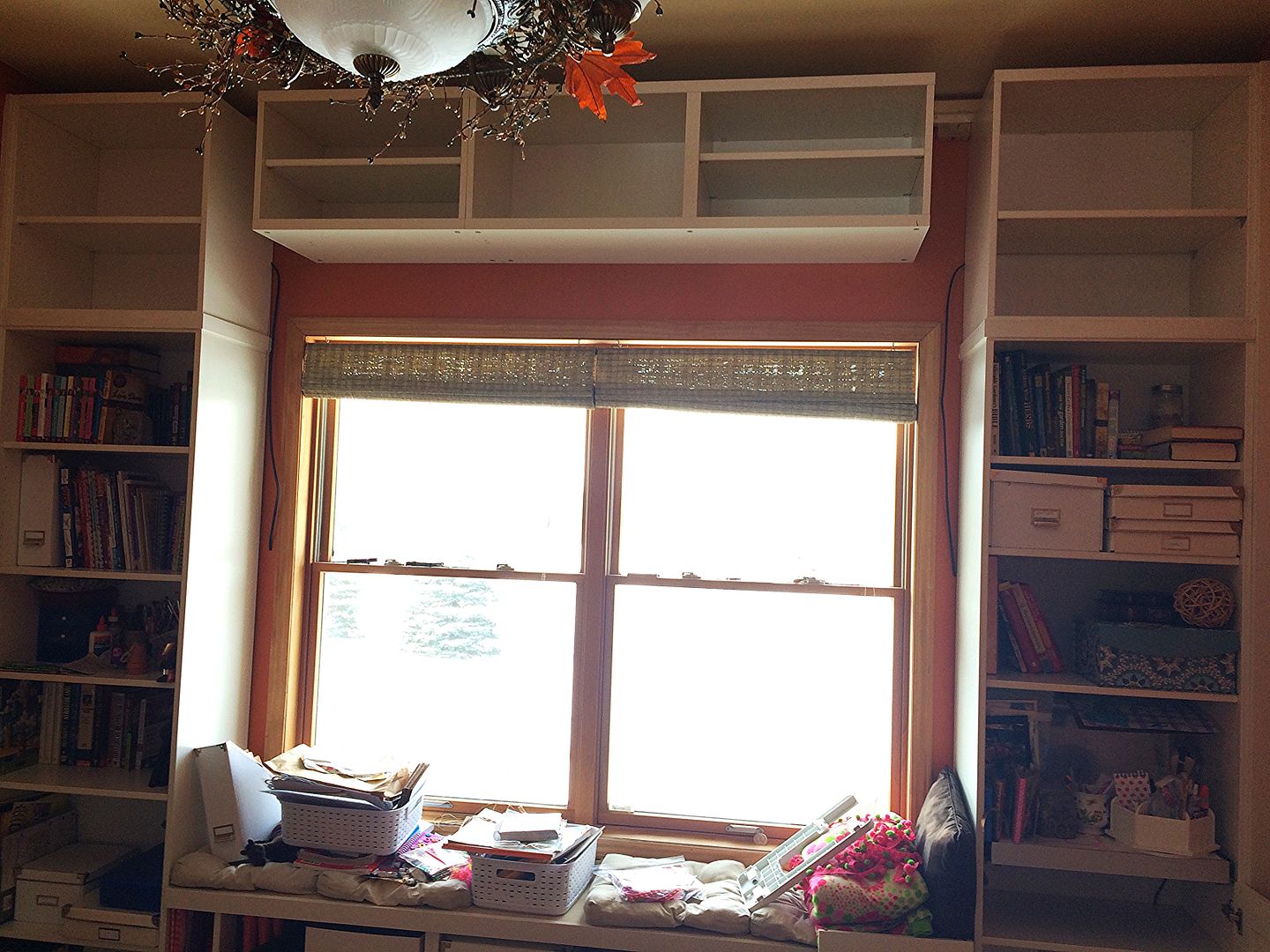 Re-use
My new goal is trying to use what you already have to accomplish the project.  Soooo – some very cool, unique and custom things can happen when you work that way.  Oh, did I mention, we were cleaning out our garage and basement also?
Now you will have to forgive the pictures, they are not so great because of the crazy glare off all our snow!  lol.  I will try and get you a better one once all the personal stuff is downsized and cleaned up.  I was just so excited to share my awesome cabinets with you, please don't mind the clutter.
The "office" area will be on the opposite wall to the window in a buffet.  I will update you when that happens.
Organize
When the crafts are in their own containers, I think it will be easier to pull out and put away for everyone.  If I did not have the size I needed, I went to the resale stores and found the size I needed and painted it with my leftover paint.
I decided the kids would be on the left of the unit and I would get the right for sewing and my books.  We had these weird spaces open, so I decided to put the scrapbooks and kids' memory books in them. They fit perfectly.
My sewing machine is on a pull-out shelf, the door can be kept closed if chosen.  The shelves below will hold my sewing necessities (in bins).
There is a ton of possibilities out there to customize the cabinet of your dreams too!  The hardest part is trying to figure out what you would like to keep in your new cabinet.  I know Home Depot has some cool interior cabinet organizers if Ikea is too far.
If anyone wants to help with paint colors and whether I should put drapes up, that would definintely be a help!