Sunday for us, is family game day. We had plenty to pick from as I had attended the ChiTag Toy and Game Fair this past weekend. We stopped at the Goliath Games booth where we say some flashback games and some great new games. I showed the kids the games we had to pick from, and the three of them all picked different games. So we decided we were going to have a Game Marathon and afterwards decide which game was liked the best!
The Tic Stac Toe was the one we started with first.  Tic Stac Toe received the Parent's Choice Award in Fall 2014, which made this one stand out to me.  We had a little bit of a slow start as this game blows the regular idea of tic tac toe out of the water!  We had to learn a new way of the game which took a bit to get everyone on board.  Once the kids had it, they were awesome with it.  This game really taught them there is more than one way to win.  They really had to use their brains for this one.  Cool!
The next game in our marathon line up was Rummikub which is sort of like Rummy 800, for those card players. This game has been around since the 50's.  It is known as the third best-selling family game in the world. I remember this game as a child and we had a ton of fun with it then.  It is quite addicting.  This game even has a World Championship match!  My husband won this round of our game marathon.  Every household should own this game with children above 8 years old.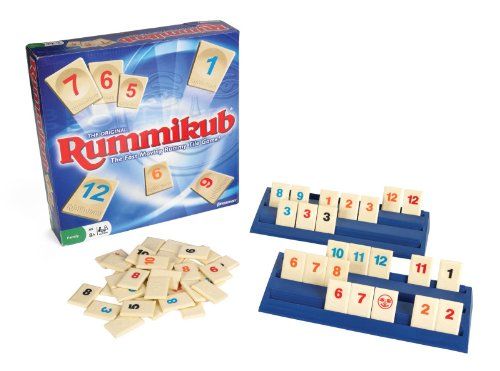 Our next game in the line up was not really a game, but a ball or frisbee.  My daughter loves to throw a ball.  She is the phydivsl-type game player.  We figured we could run around a bit outside since the weather was actually nice.
I had received a Phlat Ball.  It can be thrown while flat and then it pops open into a ball shape.  My one daughter loves to throw a frisbee and the other one enjoys throwing a baseball.  This satisfied both kids at the same time.  Double awesome!  While the kids were throwing this around in the yard, I was able to start dinner.  I watched them through the window, and they were throwing it around like hot potato.  If it popped open before the next one caught it, they had the "hot" ball.  The dog ran around under them all the while trying to catch it too.  It was great fun to even watch the kids playing with it.
This Phlat Ball helped them create their own game, which helps them develop creative ways to solve problems.  I like that.  Kids get exercise for their bodies and minds at the same time.  Gotta love that gift.
Well, after much deliberation on which game was the best, we all had our favorites.  Mine was all of them because my family got along for hours without bickering.  They all had the same goal of finding the best game, but really they learned how to have fun in a bunch of different ways.
I always recommend board games and games that involve the whole family because they enable you to create those memories long after the hustle and bustle of Christmas has passed.  Any one of these games will make the kids laugh while expanding their brains which is a win-win for me.
We may have been compensated for this post in the form of a gift card, free merchandise, or in the form of a discount. Our opinions are those of our family or myself from playing with the products.