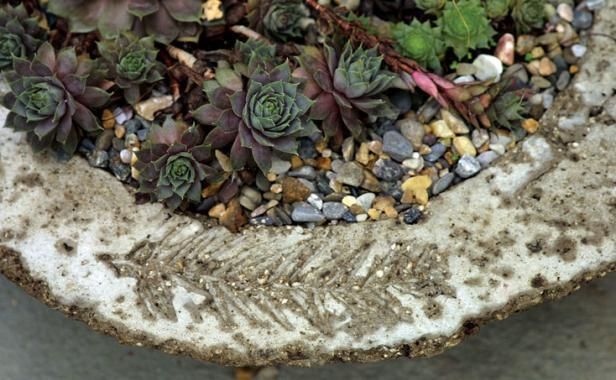 Hypertufa
A type of concrete mix that mimics tufa rock troughs that were used in Alpine gardens as planters.  English gardens started using tufa troughs in the late 19th and early 20th centuries. Hypertufa was developed in the 1930's to replicate these rustic looking troughs without all the weight.  Hypertufa uses portland cement, perlite and peat moss to help lighten the load.  Portland cement is type 1 cement. It can come in either white or gray, your preference.  Quickcrete is one brand of portland cement.
The planters are porous which make them good for plants which need good drainage. The pots are also completely weatherproof even in winters down to -30°. In fact, due to their portability, these can be made for just about any use you have in your yard, big or small.
Keep in mind this is NOT an exact science, so you will need to be a little flexible until you get your groove!  So, if you loved to make mud pies when you were little, this is going to be a blast for you.  Let's go—
Supplies~
mixing tub
measuring container
Nonstick cooking spray (yes, cooking spray)
peat moss
perlite
Portland cement
dust mask
rubber gloves
trowel
plastic drop cloth, large enought to cover whole pot
containers for mold (same shape)
wire brush
optional fibermesh (concrete reinforcer)
powdered concrete tint
Recipe~
1 part portland cement general purpose/type 1)
1 1/2 parts sphagnum peat moss
1 1/2 parts perlite
Directions~
Mixing. Wearing gloves and mask, mix with trowel the cement, perlite and peat moss in the mixing tub. Add water slowly, stopping and testing consistency until when squeezed in your hand, it stays together and doesn't release more than a few drips of water.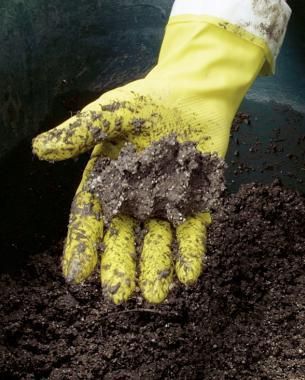 Building. Place the container upside down on your drop cloth.  This will hold the inside shape for your plants. Spray container lightly with nonstick spray.  Build up the sides, packing it down firmly. Stay close to the same thickness checking this by inserting a pencil randomly into the mix to check the depth.  A 1 to 2 inch layer will help your pot stay strong.  *TIP:  Place rosemary, evergreen springs, or twigs around your containers so you can have a cool top edge on your finished products.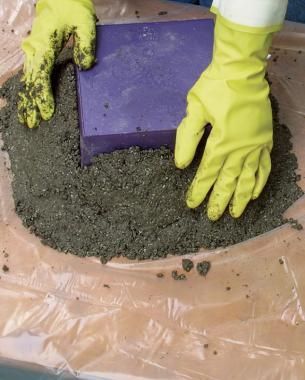 Drainage. Once the pot is completely covered, use your finger or a pencil to place a drain hole in the bottom center of the pot.  Make sure to pat the bottom of the pot to give it a nice flat surface to sit on when planted up.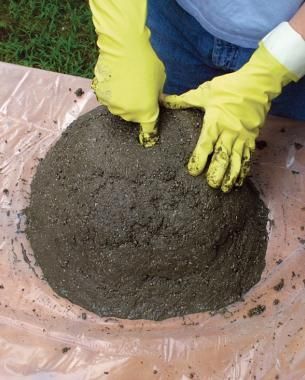 Cover.  Once your pot is formed, cover the whole pot with the drop cloth.  You want it to dry slowly, which prevents cracks.  Place it in a safe and shady spot for about 1 day.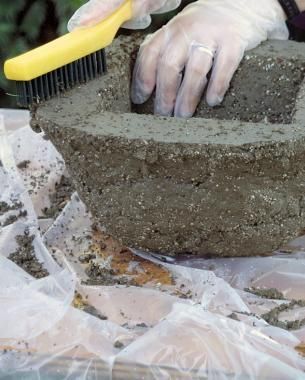 Brush. After one day, remove the container and brush top and edges to smooth rough spots and give it that rustic look.  Remove any decorations that may have used.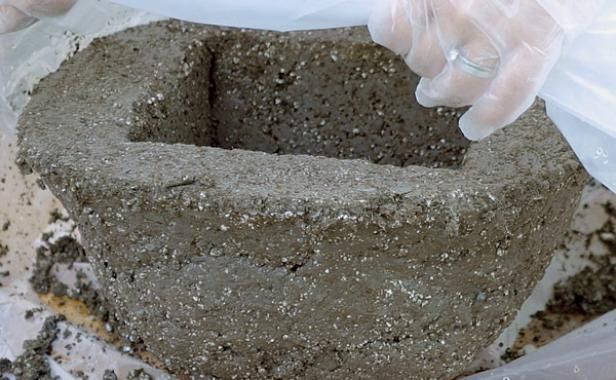 Cover.  Place your pot back into your plastic to finish drying slowly for another 2 days. Then unwrap and leave outside where it can get wet, preferably not by any plants. Spray with the hose for a few weeks or leave out in the rainy spring weather to wash away any residual lime out of the container.  Plants do not do well with lime! The planter will take up to 2 months to finish curring at which time it will be ready to use.
This recipe was adapted from the Fine Gardening website, which I love!  It is one of my favorite goto gardening helpers.  I still have my first hypertufa pot which has lasted me 6 years now with the cold Wisconsin winters.
Advanced Planters
When you are ready to move onto more dynamic shapes and sizes, flip the container upright. Pack hypertufa on the bottom and slightly up the sides. Place a similar shape container but smaller inside the larger container leaving 1-2 inches for your walls after packing.
Container ideas: This can be done with baskets (outside covered with duct tape to seal), milk cartons, metal mixing bowls, and wood boxes.  Let your imagination soar with this project!  I would love to receive pictures of some finished projects.  😉