The weather may be warming up outside, but we now have more things going on after school.  I still need to feed my family healthy meals but cannot be home to do so all the time.  I adapted this recipe from Jennie-O  with food that I had on hand.
I used organic beans, tomatoes, chicken broth, and quinoa with Jennie-O Lean Breakfast Sausage.  I cooked the sausage through and then added all the ingredients in my crock pot.  All of my ingredients were gluten free also, including Jennie-O's sausage. Bonus!
Next time I think I will throw a half bottle of beer in also.  We completed our bowls with cheddar cheese and sour cream.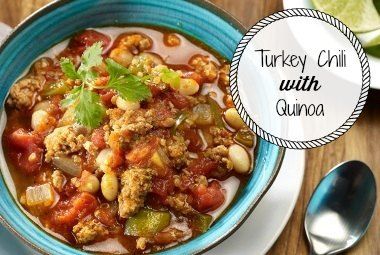 Turkey Chili with Quinoa (Crock Pot)
Yummy Chili with a little healthy spin. Great for those week night meals when there is not time to cook. Gluten Free.
Ingredients
Jennie-O Lean Breakfast Sausage or Ground Turkey (about 1 pound)
½ onion chopped
½ green pepper chopped
1 Tb chili powder (may need ½ Tb more to taste)
2 chopped garlic cloves
3 c chicken broth
2 cans diced tomatoes, undrained
1 can Navy beans, drained and rinsed
½ c quinoa uncoooked
½ cup of salsa
Instructions
Cook turkey as specified on the package (depending on which product used)
In a saucepan, heat oil over medium heat adding turkey, onion, green pepper, gar lic, chili powder.
Transfer to slow cooker.
Add broth, tomatoes, beans, salsa and quinoa to slow cooker.
Cover and cook on LOW 4 hours or until chili thickens.
Place chili into bowls.
Serve with desired toppings; sour cream, cilantro, cheese.
The kids loved this.  It was prepared in 20 minutes with the rest of the cooking time done sitting in a crock pot while we did our running around.  We got home at 5:30p and dinner was waiting. You have gotta love that!  Enjoy!