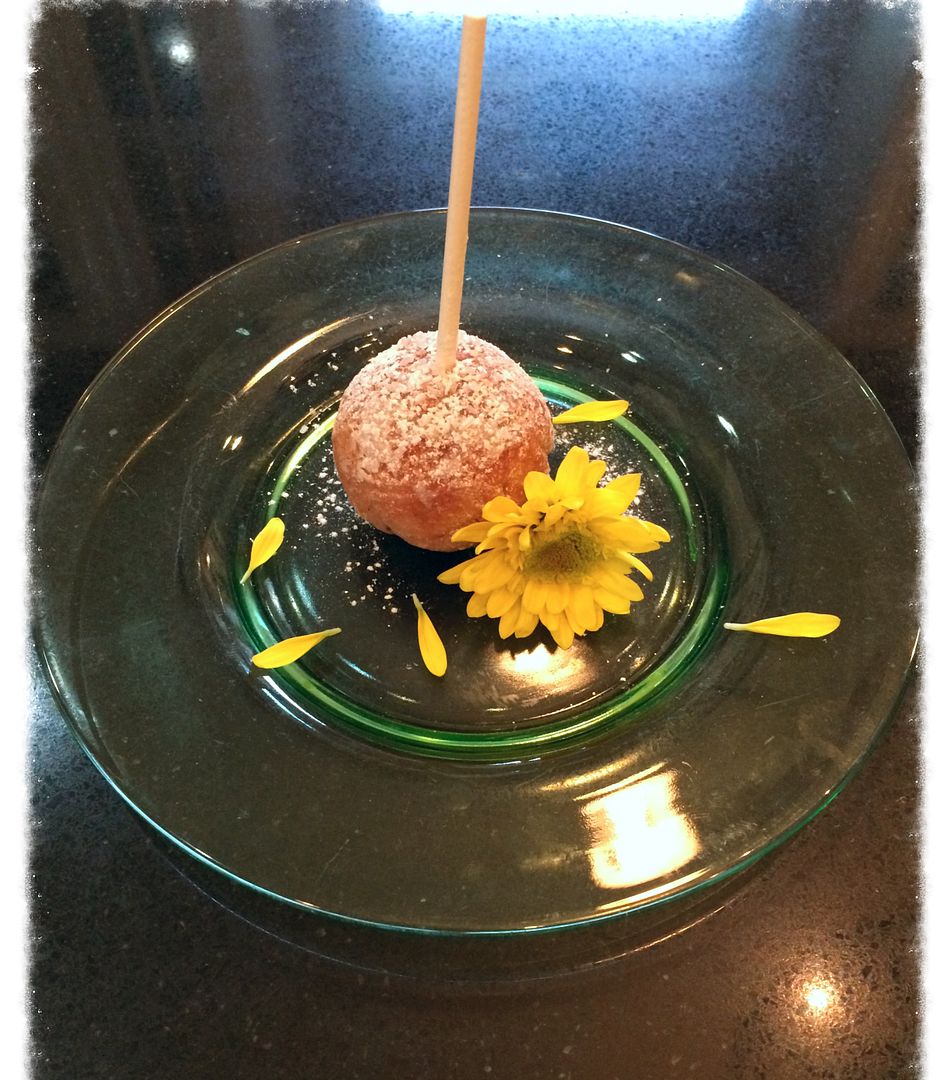 This weekend was pretty great! A friend brought over her cake pop maker so we could make some cake pops with the girls. I was given this Pink Lemonade Donut Mix from Bumbalooza*. I had been wanting to make mini bundt cakes with the mix but just could not decide what to make with them. I figured, we were going to use the Pink Lemonade Donut Mix for our cake pops.
Once we started reading the directions, and having a glass of wine or two, us adults decided we were going to play around a little with the directions due to cooking pops instead of donuts. We replaced the mashed strawberries with homemade strawberry jam. The batter needed to be scooped and easily plopped into the pop maker. Yes, plopped is an official cooking term! This is country out here. lol. Once that was achieved we could start cooking one. We came up with about 6 minutes.
One child helped us mix it and plop into the cake pop maker. Another child stuck in the sticks, and the last step was to twirl in a glaze. None of us wanted them too sweet, so we brain stormed on what could we mix with powdered sugar for glaze. My friend asked where did the pink lemonade come from in the title? Then it hit me, lemonade glaze! I squeezed one whole fresh lemon into the bowl and kept mixing in the powdered sugar until it was pretty thick and sticky.
The last child in the assembly line swirled the pop into the lemonade glaze. It was awesome! So I am going to share our recipe with you, but please keep in mind that the consistency must be somewhat thick, like mashed potatoes. Cooking times will vary due to thickness of batter and machine temps. I hope your family enjoys these as much as we did along with the memories!

Pink Lemonade Cake Pops - Gluten Free
Gluten free can be delicious and fun. Make these whimsical Pink Lemonade Cake Pops with your children and watch the magic begin!
Ingredients
1 box of Pink Lemonade Donut Mix from Bumbalooza
3 Tablespoons of strawberry jam (or 8 strawberries juiced or pureed)
½ cup of butter, melted
2 eggs (or egg substitute)
1 whole lemon, juiced separately in a mixing bowl
Powdered sugar (optional)
Instructions
Mix all ingredients together except lemon juice.
Place about 1 Tablespoon in cake pop maker
Bake for approximately 6 minutes. Batter will darken a bit. Toothpick poke should be clean.
Remove, dip stick in glaze and place in pop. Let cool.
Roll cooled pops in glaze in bowl. Let set up.
Enjoy!
*A box of Pink Lemonade Donut Mix was provided by
Bumbalooza
to create these delicious and whimsical treats.  Thank you for your support.