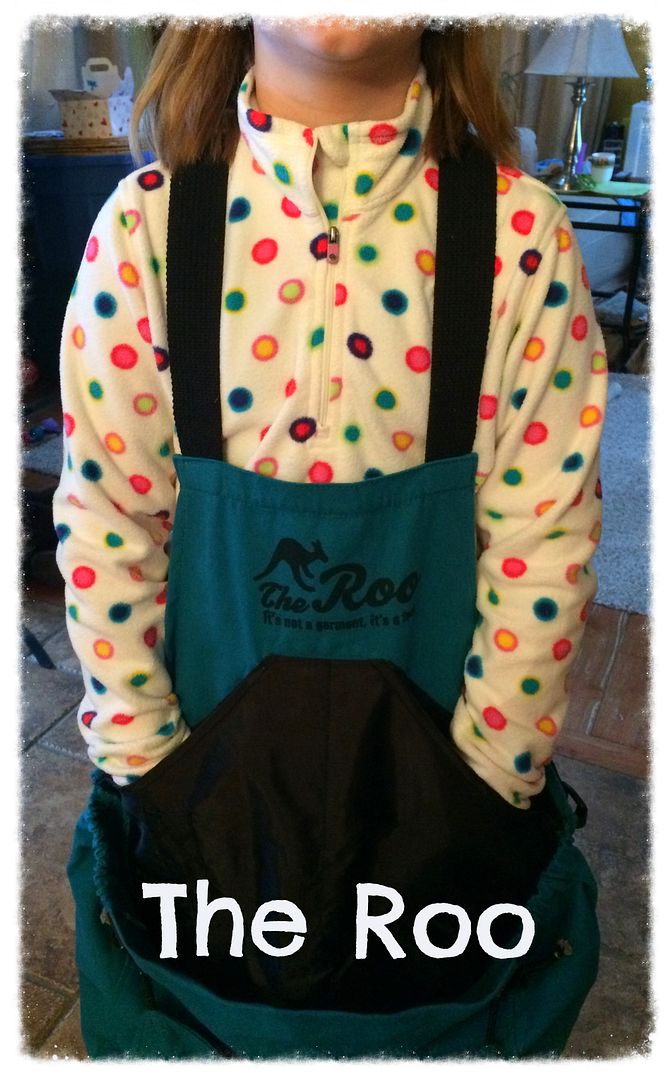 What is it?  Well, that is sort of open for interpretation.  I was sent one of these "aprons" to review.  Well, if anyone knows me, then they know that it will not only be me using it, but all of my girls.  They are very creative and rougher than most boys so we really put this thing to the test.  lol.
As soon as it arrived, the three girls were fighting over it! They all wanted to try it out. My youngest daughter got it first.  I had been telling her to clean her room (no, you are not the only one!) for a week.  She tried on The Roo and disappeared. After about one hour, she told me she had cleaned her room while wearing the Roo. She then suggested I may want to use the Roo to clean my room because it was so much fun!
She is 10 and was able to adjust the Roo to fit her comfortably.  She decided she was going to use it to pick up her toys around the house.  Can you believe it?  She was cleaning up without being asked.  I was impressed.  She now actually uses it for anything she can think of inside the house!
My middle daughter used it in the fall to carry the Halloween decorations outside. She asked if she could then wear it to help me clean out the garden beds.  It just keeps getting crazier!  This child loves the soil.  I thought for sure she would tear the Roo or get it filthy, or even stain it.  Nope.  Didn't happen.
"The Roo ~ It's not a garment, it's a tool"
My eldest daughter offered to help me put away the lawn art only if she could wear the Roo.  I caved in and told her she could. lol.  She then decided when she was done, that she could stuff quite a few of her stuffed animals in the Roo to carrying them outside for a picnic.  It seems everyone was finding a use for it other than outside work.
So after it came back out of the wash, I set it in my office so I would have a chance to use it.  The kids had helped with most of the yard work so I really didn't get much of a chance to use it for my review up to that point.
Since the kids are older now, and they know all our Christmas tricks, I had to hide things in new spots.  I had to dig things out from the basement and bedroom and get them to the kitchen for wrapping while my little elves were at school.  What a pain.  I needed something to help me carry my tape, scissors, cards, gifts, etc.  I pulled out the Roo.  I cut my stair climbing in half.  I was able to get all my accessories to the kitchen and back to their rightful place quickly.  I kind of laughed at this point because we were barely using this apron for the garden.  Instead it became my home helper.
I plan on using it while planting my pots this spring.  I have already started to think about how it will save me time by stuffing in my gloves, trowl, and all those little things we need to keep our gardens growing beautifully.  Since we found so many other uses for it, I thought I would include a video so you can see it in action!
This apron has been worn by four different people in different age groups and not one of us has ripped or stained it.  The quailty is very high and the many color choices help keep it looking great, even after many washes!  I was also impressed with the fact that it did not bother my back.  The straps sort criss cross on your back, which distributes the weight in the pouch more effectively.  Oh, let's not forget it keeps your clothes clean too. Bonus.
My girls brought up a good point to me the other day about the Roo.  They think that kids should buy this for their moms so they can get their tasks done more quickly with less work.  I think this would be a great gift idea for Mother's Day!  I was just happy they finally gave me the chance to use it!
I love my Roo! How about you?