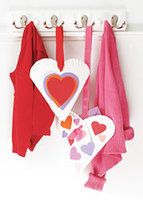 Love
This adorable little purse can be made in under an hour and with things you already have in your home.  We have made so many of these over the years that I started thinking of other uses for them.  😉
The original idea came from familyfun.com in 2007.  Since then, the company has gone through changes so it is hard to find this cute little craft so I am providing it from my stash of cool kid crafts!
Love Note Tote
Materials:
2 paper plates
stapler
scissors
hole punch
glue
colored paper
ribbon
glitter
Directions:
Fold both paper plates in half, placing one inside the other on an angle to form a heart. Staple together.
Round top edges with scissors. Then punch holes in the top center of heart, front and back.
Decorate as desired.
Add decorative ribbon, tying knots on inside of heart.