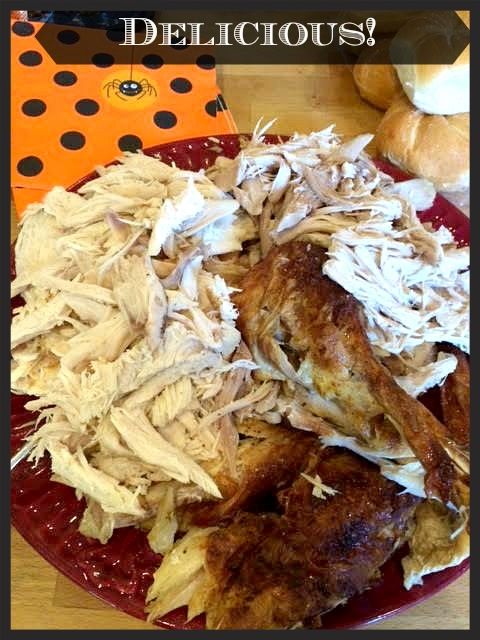 I have always been a "guest" for Thanksgiving, but as we get older, we tend to want to travel less after eating. lol.  We have been opting to host Thanksgiving at our house due to the fact that my husband's birthday falls on or around Thanksgiving.  Instead of traveling twice at the holiday time, we have combined activities.
Since we have been hosting Thanksgiving for the last 2 years, I have been researching on different techniques for cooking my turkey.  Cooks Illustrated seems to make it work every time, but with the hassle of flipping the bird while cooking.
I was presented with a turkey-in-a-bag option from my friends at Jennie-O Turkey Store* this year.  The turkey comes inside a bag, frozen, called Oven Ready Whole Turkey. When the big day arrives, all you need to do is pull the turkey out of the carrying bag, remove the large gravy bag, and place the FROZEN turkey still in its roasting bag in the pan! Really?  Can this be? No 4 days or more to thaw the turkey and then sometimes its not thawed on the "Big Day!"  This can't be.  I was excited and afraid at the same time. lol.  I had grown up believing that Thanksgiving was a long day cooking for family and friends.  Dare I actually dream to sit with family and friends and socialize? Oh my.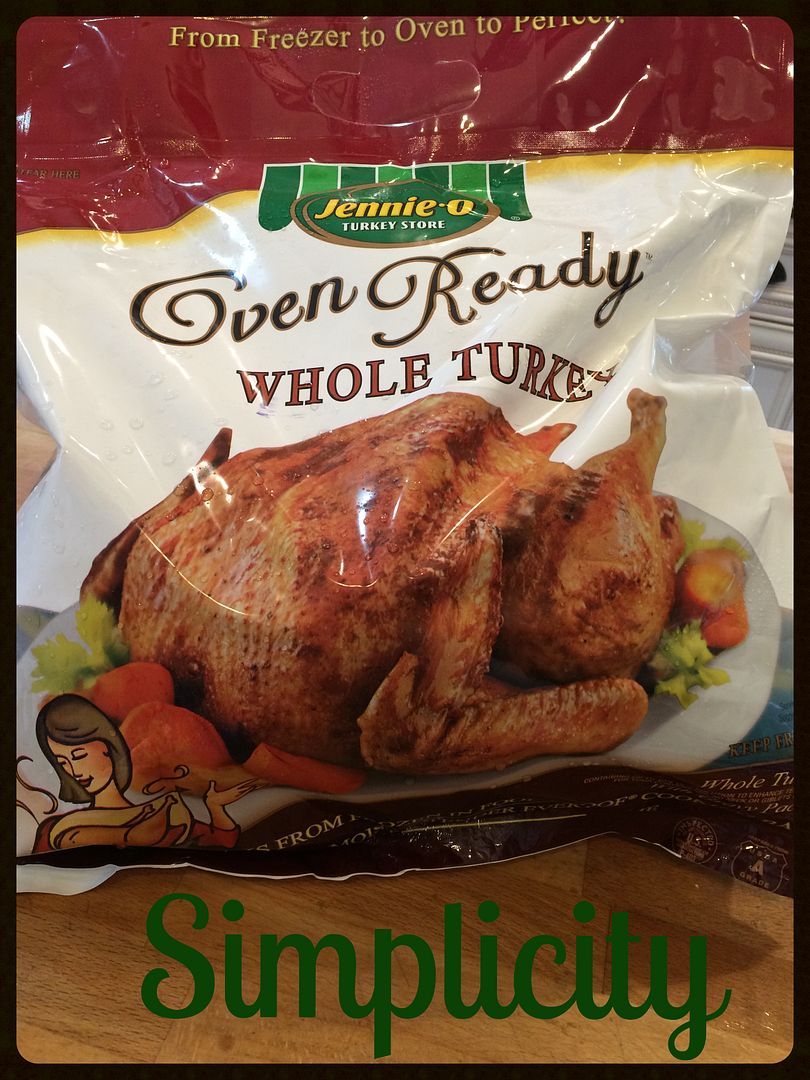 Needless to say, we were hosting trick or treat at our home this past weekend.  I was going to make some crock pot soups for my crowd of 15.  About the same as our Thanksgiving party size.  I decided I would try it out on them, and if all went well, my day would be spent socializing and not stuck next to the oven "basting the bird!"
When the day arrived, I pulled out the bird around 10am because the bag said allow about 4 hours to cook and 15-30 minutes to set.  I have to say, I was very excited about not having to baste the turkey.  I opened the bag, put the gravy on the side, placed in my pan and set the timer for 4 hours.
When my guests arrived, we actually went outside and started a bonfire.  My guests thought I was crazy with this Jennie-O turkey-in-a-bag.  We all peaked in on the bird half way through cooking to check on him. The coating on the bird turned into this awesome boiling juice that was also steaming the turkey.  What a great concept.
When the turkey timer went off, I noticed the little pop up timer was half way up.  The bag was pulled across preventing it from popping up all the way.  The turkey was done before the 4 hours was up.  I pulled the turkey out and let it set for about 25 minutes before I started to carve it.
Some of our guests stole pieces, which is why you see a picture of my turkey all cut up. Our guests could not keep their paws off before I had a chance to take a picture of the beautiful brown bird!!  Sorry.  At least I got the picture!
I served this turkey with buns, cranberry sauce, gravy and potatoes.  We made sandwiches.  Another thing I noticed was that the included gravy bag wanted you to mix 1 1/4 cup of water into the gravy and warm up.  I added 1 1/4 cup of the bag juices and put the rest into another gravy boat.  So we had thin gravy or thick gravy, whatever your preference.  I think the bag gravy could also be mixed with your stuffing intead of the brown gravy since there is not a way to stuff your bird.
Either way, this turkey was amazing! It was moist, done to perfection, browned, crispy, everything you want in a turkey completely obtained without your constant hovering.  I was able to sit with my family and friends by a bonfire and catch up with everyone's stories.  Jennie-O did more than provide me with a turkey, they provided me with cherished momories I will have forever.  We all know, memory building with family and friends is my thing, which will now happen for the rest of our hosted Thanksgiving dinners at home. We did convert our guests to this new technique for cooking a turkey! Yeah!
Good points of this Thanksgiving Turkey Innovation:
Cook from frozen, no thawing!
Comes in its own roasting bag
Comes self-basting and seasoned
No basting or turning the bird
No pan mess
Comes with yummy brown gravy
More time with family and friends
Gluten Free
Some things you need to watch:
Make sure bag is pulled away from the popup timer
Use the left over pan juice to mix in with gravy or use to make stuffing
Biggest size 13 pounds
Will not have any left overs because it is so good
*I was so fortunate to be selected to try this great turkey product from Jennie-O.  I can't wait to cook one for Thanksgiving, maybe even making a small one for Christmas too.  I hope this will enable you and your family to create some awesome memories this holiday season!